September 2015
Institutional Strengthening
As a means to facilitate institutional strengthening of their partners, the Tata Trusts conducted a residential Organisation Development (OD) workshop at the campus of Tata Institute of Social Sciences (TISS), Mumbai, during September 6 – 12, 2015. The six-day residential workshop was executed as a pilot for partners from Maharashtra, with Vijay Kumar, Vijay Padki, Naveen Tather, Shrashtant Patara and Rakesh Khanna as resource persons.
Two representatives from ten NGOs participated in the workshop. The participants included senior officers (including Chief Executive Officers, Directors, Project Managers, etc.). Over the six days of the OD workshop, participants were exposed to the basics of organisational development, concepts of behavioural sciences and the fundamentals of change methodology. Keeping in consideration the fact that a majority of the participants were new to the concept of OD and change methodology, the workshop was designed to be highly participative, through minimum lectures, and more focus on exercises and study groups. Trainers made focused efforts to convey the content in Hindi for the benefit of participants. The focus was on experiential learning and self-study. As each session passed, the participants' grasp of the principles and concepts rose fast and the learning appeared rapid. The participants started relating the concepts of OD with the work and needs of their own organisations. On the sixth day, all the organisations prepared an action plan, to be undertaken over three months, on how they planned to apply the OD to their organisation.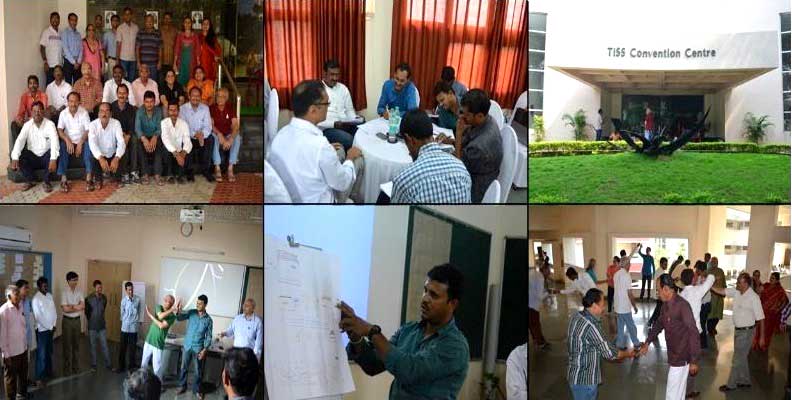 Institutional strengthening of Tata Trusts' partners - a core mandate of the Civil Society Strengthening team
Pawan Pendkar (DHURVA, BAIF) a participant expressed his gratitude to the Trusts for organising this useful workshop, saying, "…...I knew some of the topics, but came to know the utility and implementation of many theories, which would be useful in organisational and individual roles."
A residential workshop (spread over three days with the same participants) will be held during November 17 - 19, 2015, at TISS. On one of these three days, there will be a plenary session, where all the organisations will share their experiences and successes with the other participants. Additionally, there will also be a one-on-one discussion with each NGO, to arrive at the next steps of their organisational development journey.